Fruity Vegetable Juice Recipes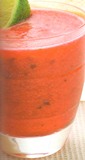 These fruity vegetable juice recipes are some of my favorite and that's why I going to share them with you. Not only are they healthy and nutritious, but they also tend to boost your energy levels as well.
These vegetable juice recipes are combined with some really antioxidant vitamin rich fruits that makes the healthiest fruit and vegetable juices. The good news too is that the use of your freshly picked vegetables will contribute towards that nice, smooth and healthy flavor.
Green Vegetable Juice
This juice will not only help boost your energy levels, but also clean out your system and enhance your skin tone. It's a nice healthy drink to keep you fresh in the morning.
Drink it first thing in the morning before you have your breakfast.
Ingredients
3 ½ oz broccoli
3 ½ oz kale parsley
1 apple
2 sticks celery
Directions- place all of the ingredients into a juicer to juice them and serve in a tall glass. (Serves 1)
Here's Another Green Vegetable Juice that's Rich in Silicon and Potassium
Ingredients
1 green pepper
1 medium parsnip
small bunch of watercress
1/2 cucumber
1 tbsp of chopped mint
Directions- Juice the ingredients together in a juicer and serve with ice with a sprinkling of mint. (Serves 1)
A Special Fruity Vegetable Juice to Kick Start your Day
This juice is perfect if you don't have enough time to prepare your breakfast in the morning. It contains a lot of vitamins and minerals and has a unique taste.
I drink this a lot especially when I'm on the go and I don't get hungry for the entire morning, it tends to make you full actually.
Ingredients
1 apple
1carrot
1 celery
1 pear
1 kiwi fruit
ginger to taste
Directions- Juice all of the ingredients together and leave it to chill in the refrigerator for 15 mins. Or if you want you can add some ice and drink it right away.
To add that extra zip, you can add a banana and a handful of berries for a little sweetness. (Serves 1)
Here's a Carrot and Apple Juice Recipe
Ingredients
Directions- Juice all of the ingredients together and add ice to the mixture if you want. (Serves 1)
This is an excellent cure for spotty skin as the celery contains some really good healing properties. This recipe is one of the healthiest vegetable juice recipes and the taste is quite interesting with that fruity zip from the apple.
Here's a Vitamin C Antioxidant Rich Juice Recipe
This juice will definitely increase your vitamin C intake and is quite tasty. It's a combination of apple, kiwi and carrot. The ginger adds that spicy zip that can help settle an upset stomach.
Ingredients
1 carrot
1 apple
1 kiwi fruit
ginger
Directions- Juice the first 3 ingredients together and add a small amount of ginger to the juicer. You can add more to suit. (Serves 1)
Apple Celery Juice with Blueberries and Raspberries
This juice is filled with antioxidants and is ideal for drinking after exercising. It also contains pumpkin and sunflower seeds. The essential fatty oils in the seeds help nourish the skin.
It also has a high level of fibre to promote a healthy digestive system as well. I had to include this recipe in my list of vegetable juice recipes due to the taste and health benefits.
Ingredients
250 ml/9 fl oz apple juice
a handful of berries
a handful of raspberries
1 celery stick
1 kiwi fruit
50g/2 oz pumpkin seeds
50g/2 0z sunflower seeds
Directions- Place all of the ingredients into a blender and blend at a high speed until the mixture is smooth. You can add some ice or put it in the refrigerator to chill for a few minutes. (Serves 1)
---

So there you have it. At present, these are some of my favorite vegetable juice recipes and it's good to try them with the vegetables from your garden. These vegetable juice recipes are definitely worth a try.
Return from vegetable juice recipes to easy vegetable recipes
Return to quick and easy home