Easy Vegetable Recipes for You and Your Family to Enjoy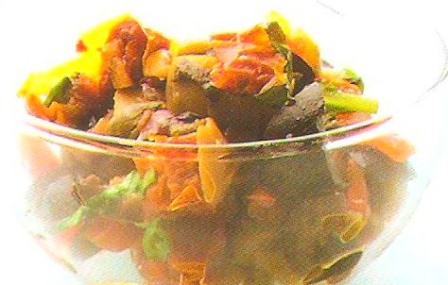 Here are some easy vegetable recipes that you can try out. You see, the good thing about growing your own vegetables is how different the taste is from the store bought ones.
After all, its fresh vegetables straight from your garden and you may even enjoy them more than ever since it's what you produced. I'm going to offer you some of my favorite easy vegetable recipes that are definitely worth trying.
If you tend to be short of energy when you wake up in the morning, these recipes can suit you very well. Not only are these recipes good for maintaining energy levels but also if you have soft brittle nails as well. These worked wonders for me especially the green machine in particular.
They are full of antioxidants and contain some skin healing properties. They're all generally healthy with a fruity, vegetable taste.
Soups are quite appealing and they make some excellent appetizers as well. These soups are healthy and can give your skin that beautiful glow due to some moisturizing properties.
These soup recipes comprise of carrot and pumpkin soup just to list a few. They're worth trying as they are full of antioxidants along with some vitamins and minerals.
I love vegetable salads especially when they contain peppers, chives and a little seasoning. They're a perfect addition to lunch and dinner meals. If you're on a low fat-diet why not include them in your daily meals.
These salads will also help boost your energy levels. Vegetable salads are high in protein and nutrients such as iron, zinc along with B vitamins. I must mention that they are very healthy for your hair, skin and nails.
Vegetable Nutrition Facts
Green Leafy Vegetables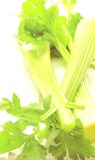 Green leaf veggies make up some of the healthiest vegetables to eat. They contain
vitamins C and E
folic acid

calcium

iron
potassium
Here's an example of some of them along with their health benefits…
Celery
Celery is high in vitamins B1, C and E, calcium, beta carotene, potassium and fibre. It also contains some great detoxifying properties for the body and is commonly eaten for the purpose of controlling calories.
The water content is quite high thereby providing the skin with the moisture it needs. The phenolic acids it contains are known to block the formation of chemicals that can cause conditions such as arthritis.
Broccoli
Broccoli has a high level of antioxidants and fibre. It's an excellent cleansing vegetable that's often highly recommended for diabetics. Broccoli is also a common ingredient used in a lot of easy vegetable recipes. It's known for cleansing and purifying the liver which leads to enhancing the body's immune system.
Lettuce
Lettuce comes with a lot of varieties and the good news is that all of them are full of nutrients and low in calories. The best choices are the darker varieties as they contain more antioxidants than the lighter ones.
Lettuce is prefect for salads and is important for cell renewal due to the beta carotene and vitamin C it contains.
Fruity Vegetables
Fruity vegetables are rich in vitamin C and carotenoids. Here are some fruity vegetables that are commonly used in some of the most delicious and easy vegetable recipes…
Peppers
Peppers have a high level of water content and keep the nails and skin well hydrated. Check out this easy veggie recipe for stuffed peppers which is one of my favorites by the way.
The hot flavor peppers consist of yellow, red and green. They are the ideal winter food as most people are easily prone to getting the cold or blocked sinuses during that period.
Tomatoes
The ripe juicy ones supply the skin with moisture along with enhancing the digestive system. Tomatoes also helps lowers the risk of getting stomach, colon and rectal cancers by about 60%.
New research has also shown that they are can help prevent lung cancer.
Pumpkin
The deep orange color shows that it's packed with beta carotenes and alpha in addition to antioxidants such as vitamin C & E. The carotenes play an important role against fighting free radicals. The combination of beta carotene and vitamin C means that this vegetable helps boost the immune system thereby providing a resistant to colds and flu.
Root Vegetables
Root vegetables are made up of carrots, sweet potato, beetroot and onions just to list a few. They're known to have anti-aging properties with vitamins and nutrients such as…
A

C

calcium

iron

fibre
potassium
folic acid
carotenes
---
Check out any of the links above to get some cool and easy vegetable recipes. These easy vegetable recipes are delicious and can be suitable for lunches, dinner or even a simple gathering with friends and family.
Growing your own vegetables allows you to prepare some really tasty dishes with the use of fresh vegetables. Trust me the fresh taste is superb.
You can also take a look at some delicious fruit and vegetable recipes to include in your fruit and vegetable diet.
Return from easy vegetable recipes to quick and easy home