Vegetable Garden Planner Tips
Here's a vegetable garden planner guide for you... It's easy to follow and will also show you how to save space in your garden along with some easy gardening tips.
When preparing a vegetable garden, I like to garden with the purpose of saving some time, space and effort. Providing easy access within the garden can make vegetable gardening pretty easy, trust me.
I like to be able to easily move around in a garden that's why I included stone pathways in mine.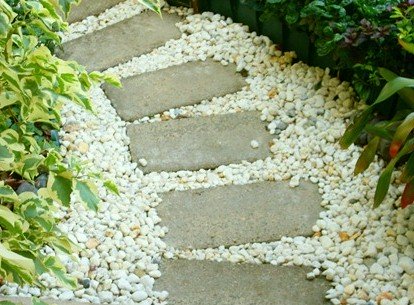 Stone pathways are convenient and are quite easy to set up in your garden.
Okay, let's discuss some ideas and tips for a vegetable garden planner…
Deciding on your Vegetable Garden Layout
There are so many considerations when it comes to deciding what to plant in your garden. To make things easier, it's best to plan your vegetable garden design by drawing a map on paper. You can use graph paper if you like with 1 square representing 1 square foot.
The graph paper can be used to illustrate rows or blocks of plants. Ensure that you cater for spacing between your plants as well as some room for pathways for easy movement in the garden. You can place some tall crops such as corn and pole beans on the north side of the plot.
This is to prevent them from providing shade to the lower-growing crops that need sunlight.
Perennial plants such as asparagus can be located in their own section in the garden. This is to avoid disturbing their roots when you prepare the soil for annual crops.
Saving Space While Planting
We usually see vegetable gardens laid out in long, narrow rows, with pathways between the adjacent rows. The width of each row is determined by the type of crop to be planted with wider rows for sprawling plants such as tomatoes in wire cages or double rows of beans on a trellis.
This form of arrangement can work very well if you intend to plant between the rows with a rotary tiller. However, it will require a good bit of garden ground. You can save space by planting all vegetables in wider rows or beds about 4 feet in width with paths between them.
Rows of plants can be set close together within the beds. The wide beds don't have to be rectangular in shape, they can be any design you wish. You can have curving beds around a circle in the center or triangular or square shaped beds.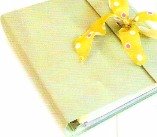 Vegetable Garden Planner Journal
A garden journal is an ideal vegetable garden planner tool. Why not make a journal to help you organize what to grow where. You can choose your journal at bookstores or mail-order garden suppliers or just simply use a notebook like I do.
Your journal is an excellent place to store your garden plans and keep records of….
Which varieties you planted
How they perform
Planting dates
Fertilization schedules
Pest control measures
You see learning how to grow vegetables is an ongoing process even if you're an experienced gardener or not. There were so many things I learned about growing vegetables where I realized the more you learn the more exciting it gets.
Your journal notes can help you build on disappointments and past successes as you plan your garden each season.
Small Garden Ideas for a Vegetable Garden Planner
Let's talk about some great ideas for a small space garden whether you're looking to start small and build or if you have limited space. A small garden when planned and planted carefully can produce a beautiful harvest.
Here are some ways to organize 2 small plots… one rectangular and the other square to give you maximum productivity and variety.
Soil preparation and pathways- To get the best results in small gardens, soil preparation is the key. This involves adding lots of compost or other organic matter plus vegetable garden fertilizer.
In the plans illustrated below, the central paths are permanent. In other words you don't cultivate them. Instead, mulch the paths to keep down weeds and to make the ground easier to walk on even during wet conditions.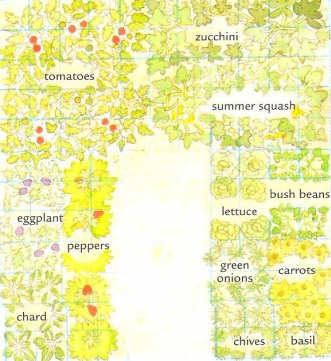 Organize your paths where you can reach the planted areas easily without stepping on the soil within the garden beds. Stepping on the soil can cause it to become compact as well as affect the root development.
Choosing your vegetables- choose crops that will provide a lot for the space they occupy such as lettuce, eggplant, pole beans, tomatoes and carrots.
Tips on How to Save Space
Grow your plants vertically as much as possible. You can train the trailing types of cucumbers and squash on an arbor or trellis. Vegetables such as pole beans, peas and indeterminate tomatoes also need to be trained on a structure.
You can plan for succession plantings to avoid empty spots in your vegetable garden. Whenever one crop is harvested, be prepared to set out new plants or seeds. Plant some fast-growing crops among the slower-growing ones.
Lettuce, green onions and radishes are some excellent fast-growing crops. You can also plant some cut and come again vegetables like leafy crops for example. These continue to grow and produce more after you pick their outer leaves.
Some good examples are lettuce, spinach, chard and arugula.
Vegetable Garden Planner Ideas
Planting vegetables among your flowers is an excellent way to save some space in your garden. If the only sunny spot you have is your front yard, then that can be a good opportunity to incorporate a crop of peppers.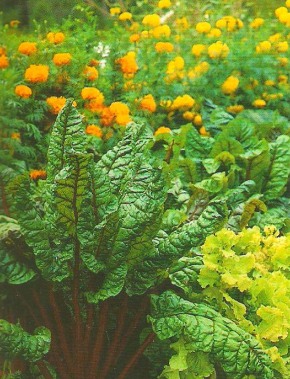 Additionally a variety of plants can attract some beneficial garden insects that prey upon vegetable garden pests. The plan shown below will give you some ideas for mixing flowering and vegetable garden plants in a beautifully shaped border that can look exceptionally gorgeous anywhere.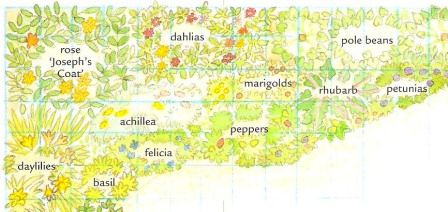 Ornamental vegetables- there is a wide variety of vegetables available that can give you some design inspirations. There are lots of vegetables and herbs that come with tinted foliage such as lettuces, mustard greens, chard just to list a few.
Peppers, tomatoes and egg-plants produce some beautifully colored fruits. You can also find some beautiful textures in vegetables such as carrot leaves and parsley or the bold designed leaves of rhubarb and artichokes.
Pole bean vines planted on an attractive trellis can look very sophisticated in your garden. To be on the creative and edgy side, choose the pole beans with the nice deep purple pods, or scarlet runner beans with red flowers followed by green pods.
Harvesting- When planning ornamental and vegetable combinations, remember that there are some vegetables where the entire plant is harvested. For example, if you plant carrots to create an edge to a bed, the effect will be lost when you harvest.
Parsley when used in the same situation to produce the same effect will last the entire season because the sprigs and not the whole plant are harvested.
How to Plant Vegetables Among Ornamentals
When it comes to planting vegetables and herbs among existing flowering plants, provide some extra attention towards soil preparation. This is to give your vegetables a good start. Clear an area that's big enough to facilitate the vegetables and then loosen the soil.
Spread some inches of compost or other organic matter and then add some fertilizer. Work these into the soil, smoothen out the surface and you'll be ready to set out your transplants or sow seeds.
---

That basically covers some tips and ideas for a vegetable garden planner. Once you follow this vegetable garden planner guide you should be good to go and all ready to create your edgy-beautiful garden.
Return from Vegetable Garden Planner to Planning a Vegetable Garden
Return to Quick and Easy Home