Planting Vegetables, Tips and Guidelines for your Garden
Planting vegetables when using the process of succession planting can allow your garden to produce consistently. When cultivating or planting vegetables, you can plant cool season vegetables such as…
…provided that you did some really good vegetable garden soil preparation so that the soil is workable in the spring and are harvested prior to the beginning of summer heat. After that you can sow some warm season crops such as corn, beans or transplants of tomatoes and peppers.
Both methods encourage the production of a second crop in the same space within a single growing season and that's pretty good. Locations with mild winters can even follow a warm season planting with another cool season crop to produce throughout fall or over winter.
That's where you can look forward to an early spring harvest the following year.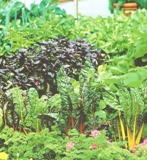 Producing Vegetables
Cool season vegetable plants grow best in moist, chilly days of spring and fall to produce leaves, stems and roots. The leaves, stems and roots are harvested while they're still young and tender.
Warm season vegetables on the other hand, require long, hot, sunny days to flower, fruit and ripen. If you're a coastal or northern gardener, you can produce cool season vegetable plants throughout an entire growing season. However, the use of heat saving devices and weather protection may be required to produce warm season crops.
Hot summer areas will yield warm season vegetables with a little additional protection. These vegetables however, may require a little shade or can be planted in the cooler seasons of spring or fall to produce some cool season vegetables.
These plants that withstand both cool and warm weather conditions have the ability to recover readily. They're often very productive crops that will produce over a very long season.
Here's a list of some vegetables that are cool season, warm season and both warm as well as cool season…
Cool Season Vegetables Plants
Asparagus
Broccoli
Cabbage
Chives
potato
Globe onions
Warm Season Vegetable Plants
Beans
Caulifower
Cucumber
Sweet and hot peppers
Purslane
Runner beans
Tomatillo
Cool and Warm Season Vegetable Plants
Bunching onion
Beets
Carrots
Celery
Garlic and shallots
Swiss chard
Ideas When Planting Vegetables
Using ridges to provide good drainage- If your soil tends to be heavy and prone to becoming wet during winter, you can grow vegetables that don't like these conditions such as garlic for example. You can grow them on raised ridges to create better drainage in your garden. Proper drainage is one of the key factors to success.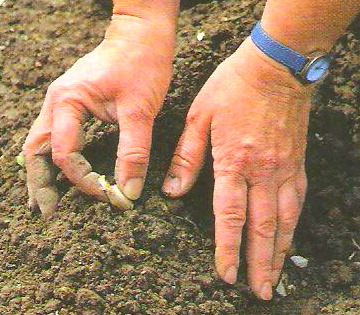 First draw up a ridge of soil about 6 inches (15cm) tall and 8-10 inches (20-25cm) wide at the base. Then plant each clove in the normal way but into the top of the ridge. This method works much better than raising the individual cloves in pots and then planting once the soil conditions have gotten better.
Protecting your Crops with Netting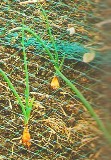 Usually when you plant onions or shallot sets the necks of the bulbs will protrude a little above the soil surface. This attracts birds as they like to pull them out of the soil and they therefore don't get a chance to root.
When this happens, you'll usually end up with gappy rows and fewer onions than you expected. However, you don't have to go through that, here's what you can do to avoid this…
For the first 4 to 6 weeks after planting, keep the sets covered with netting. This is to keep those birds away and help your crop to develop properly. You therefore shouldn't have a problem there.
Buying Young Vegetable Plants Can Be Very Convenient
Its okay if you want to purchase baby vegetable plants with the purpose of growing healthy vegetables. If you have limited time on your hands, or you've missed your sowing dates, buying young plants can be very convenient for you.
Some people often argue that you should do everything properly; however I find that you can get the same level of success from shortcuts.
In my opinion, it's easier to buy young vegetable plants to give yourself a good head start when planting vegetables.
Always Keep your Tender Vegetables Warm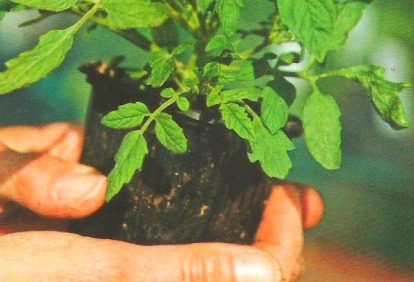 If you buy tender vegetable plants such as pepper, eggplant or tomato ensure that you have a good location for them. It must have plenty of natural daylight and sufficient warmth until it's time for planting. If you're unable to provide the required accommodation for them, it's best to delay buying them.
Toughen up your Plants to Avoid Rust
Fungal rust loves to thrive on soft foliage so it's best to avoid applying excess feeds of nitrogen-rich fertilizers or manure. What you can do is to apply sulphate of potash to the soil. Potash is a great addition because it helps to toughen up the growth and lower the risk of a fungus attack without affecting the flavor at all.

These are some easy strategies you can use for your garden when planting vegetables. At the same time you can also make planting vegetables fun as well, of course that will come in naturally when you're a garden lover.
---
Return from Planting Vegetables to Planning a Vegetable Garden
Return to Quick and Easy Home