Greening Your Home is a Healthy Way of Green Living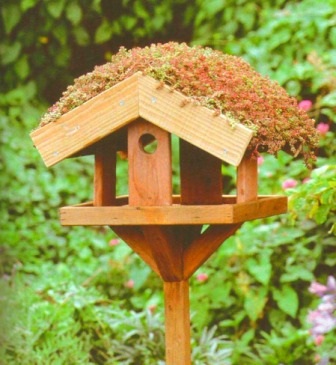 Greening your home makes up one of the many ways to go green.
We're going to show you how to develop a green roof as well as some green recycling ideas for your garden.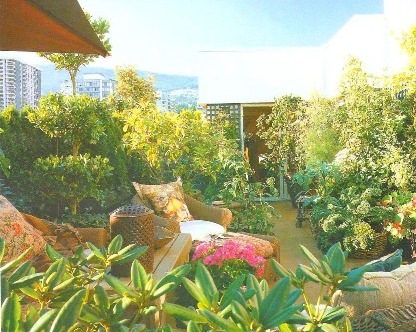 A green roof vegetable garden is an excellent alternative for those who don't have a backyard or just looking to try something that's out of the ordinary.
It's an excellent way of greening your home and can work well once you have the right type of roof to accommodate it.
Here are some things to take note of…
Security and Safety Comes First
Fencing is the way to go. This is the perfect way to protect anyone from falling off the roof as well as any tools. Ensure that the structure of the roof is protected from any moisture.
Use some moisture proof materials such as metal coverings or vinyl sheets.
Drainage
Drainage is important in order to hold adequate water within the soil. Foam is an excellent item for holding the soil. Place an additional layer between the layer of soil and the layer of drainage.
This helps avoid any blockages during the draining process.
Moss Vegetation
Choose the kind of soil for growing your plants or a particular growing method and then you can choose a vegetation layer. Moss is a good choice for a small roof or one that has a slanted design.
The great thing about moss vegetation is that it doesn't require much care. If you live in a dry climate Cacti is a good option as well.
Assessing Your Roof Structure
Analyze your roof to see if it's capable of withstanding the excess load of plants along with some other stuff. It's important to thoroughly examine the strength of your roof before you begin your green roof task.
Vegetables That Are Successful On a Green Roof
Lettuce
Spinach

Cherry tomatoes
Herbs
Bush beans
Mustard Greens
Here's a Video about Growing a Green Roof
Water Systems
The best thing to do is to install a watering system on your green roof to make things easier. This means that you wouldn't have worry about your plants as they'll be fine for several days.
You can use a garden hose to run up the side of your place, attach them to some drip lines and incorporate a timer system. This is known as a drip irrigation system.
If you'll like to get some professional advice consult with a green roof professional to provide you with some insight. When choosing plants, choose plants that can tolerant the sun rather than the ones that constantly needs moisture.
Estimating and Lowering your Installation Costs
A good opportunity to start a green roof is when your roof is in need of repairs or replacement. This creates a special room for some upgrades or changes in the structure in addition to the replacement process.
When it comes to designing a garden for your roof take these 6 points into consideration….
1. Estimate the right adjustments for irrigation, drainage as well as any other roof access points.
2. When estimating the entire cost of installation, ensure that you add the cost of structural evaluation, plumbing work and any other contractual projects.
3. Simplicity is the key when it comes to the design as it helps lower the costs. A small simple design is cheaper than a large one where irrigation will be a big challenge.
4. Try more local plants for your garden where you can start them straight from the seed.
5. Take note of any building upgrades, special plumbing projects, cost of labor along with materials and cover these costs to your installation cost.
6. You can think about reducing your costs by not adding any extra installation expenses and complex designs.
Green roof gardens are excellent for providing insulation to your house. They keep your house warm during the winter and cool during the summer.
They also reduce heating costs and this is something to consider when assessing the costs of creating and maintaining a garden.
With detailed thought and planning you can install a very beautiful garden on your rooftop without going beyond your budget.
Greening Your Home Ideas for Your Home Vegetable Garden
Pudding containers
are perfect for holding individual plants. Their size is very ideal for plants. Always remember to wash any vegetable containers that were previously bought.

You can use a mild bleach cleansing solution to eliminate any bacteria or pest.

Old soup cans
without the lids are good for starting pots. Taking out the bottom and top lids helps with removing the plant starts. You can use the lids for the base of tomato plants or plants that love the sun.

These lids as a result provide additional light to these plants as they reflect the sunlight. To keep birds from eating the fruits from your trees, punch some holes into the lids and hang them on the branches.

The reflection of the light will discourage these birds.
---
These greening your home ideas are perfect for boosting eco-friendly homes. It's always good to try one of the many ways of greening your home to help save the environment. This approach allows you to boost your creativity as well.
Greening your home involves a lot of options and ideas. Establishing green roofs and adopting some recycling ideas makes up some of these options as they're worth considering.
So get ready to boost up your green living along with some planning and professional consultation.
---
Back to Top
Return from greening your home to green movement
Return to Home