Homemade Fruit and Vegetable Diet Recipes
Here are some fruit and vegetable diet recipes that you can experiment with. These delicious vegetable recipes can help make some really fruit and vegetable meals using the vegetables from your garden.
Let's take a look at these fruit and vegetable diet recipes…
Tuna Snack
This tuna snack is quite tasty and is my favorite. It's great for an afternoon snack and helps promote healthy skin. It's easy to make and tends to full you up.
Ingredients
1/2 tin tuna (in water or sunflower oil
1/2 lemon
2 small tomatoes, chopped
1 celery stick, finely chopped
1/2 carrot, chopped
lettuce
Directions- Place the tuna in a small bowl and squeeze lemon juice all over. You can even add some low-fat mayonnaise if you want, but lemon juice tends to be tastier and healthy as well. Combine the tuna, tomatoes, celery, carrot and mix. Place on top of lettuce leaves. You can add more lemon juice and pepper to taste if you want.
Serve with 1 slice of bread. (Serves 1)
Vegetable Rice Paper Rolls Recipe with Chilli Dipping Sauce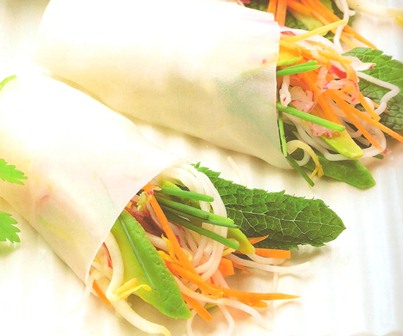 This food is low in calories but extremely high in taste. This recipe is filled with nutrients that help to lower cholesterol and promote digestion. It's a great party food and a good addition to your fruit and vegetable diet.
Ingredients
50g/2oz vermicelli noodles
2 medium avocados
1 medium carrot
24 round rice paper sheets
3 red radishes, grated
80g/2 ½ oz bean sprouts, trimmed
24 large mint leaves
2 cloves garlic, crushed
1 bunch of chives
Ingredients for chilli dipping sauce
125 ml/4 ½ fl oz white vinegar
220 g/7oz caster sugar
1 tsp salt
60 ml/2 ½ fl oz water
1 clove garlic, crushed
40 g/1 ½ oz red onion, finely chopped
60g/2 oz cucumber, seeded and finely chopped
1 tbsp fresh coriander leaves, chopped
1 small fresh red chilli, chopped
1 tbsp cashews, toasted and chopped
Directions- (for the sauce) bring the vinegar, sugar, salt and water to the boil in a medium saucepan. Continue to boil, uncovered for 2 minutes. Pour the vinegar mixture over the remaining ingredients in a medium bowl. Allow to cool.
Place the vermicelli noodles in a bowl of hot water for 10 minutes or until softened. Drain well and thinly slice the avocados. Cut the carrot into long, thin strips. Cut the chives to the same length as the carrot. Cover a board with a damp tea towel.
Place one sheet of rice paper in a bowl of warm water until softened. Place the rice paper on the tea towel. Put a slice of avocado, some of the carrots, radish, bean sprouts, a mint leaf, some garlic and chives along with noodles in the center of the sheet.
Fold the bottom half of the rice paper up. Fold in one side; roll over to enclose the filling. Repeat with the remaining rice paper sheets and remaining ingredients. Place the rolls on a plastic wrap-lined tray, cover with a damp paper towel and refrigerate until needed.
Serve with the chilli dipping sauce. (Serves 24)
Here's a Nice Apple Vegetable Recipe to make Apple, Vegetable and Quorn Curry
This recipe contains a lot of soluble and insoluble fibre to help keep your digestive system healthy along with lowering blood cholesterol levels. It's also a nice fruit and vegetable diet recipe.
Ingredients
750 ml/24 fl oz vegetable stock
75 g/2 ½ oz sultanas
75g/2 ½ oz dried bananas, sliced
75g/2 ½ oz pitted dates, halved
60 ml/2 ½ fl oz olive oil
2 by 300 g/10 oz quorn pieces
75 g/2 ½ oz cashew nuts
1 red onion, cut into thick slices
2 carrots, cut into sticks
2 green skinned apples, cored and cut into thick slices
2 tbsp medium curry paste
1 by 200 ml/7 fl oz coconut cream
salt and ground black pepper
Directions- Place the stock in a bowl and add the sultanas, bananas and dates. Allow to soak for 30 minutes. Meanwhile, heat half of the oil in a large frying pan and cook the quorn pieces for 5 minutes, while turning occasionally until golden.
Keep warm and add cashew nuts to the pan to cook for 2 minutes. Transfer to a plate and add the remaining oil to the pan. Cook the onion and carrots for 5 minutes or until golden. Add the apples and cook for 5 minutes.
Stir in the curry paste and cook for 1 minute. Add the dried fruit mixture and quorn and bring to the boil. Simmer for 25 minutes and stir in the coconut cream along with seasoning. Serve with boiled rice and scatter over cashew nuts. (Serves 2)
Fruit and Nut Risotto
This meal is heart healthy and is filled with vitamins as well. It's a nice tasty meal to add to your fruit and vegetable diet.
2 tbsp of olive oil
1 red onion, chopped
1 clove of garlic, crushed
100g/3 oz cashew nuts
275g/9 oz risotto rice
300ml/10 fl oz dry white wine
750ml/24 fl oz vegetable stock
50g/1 ½ oz walnut halves, chopped
50g/1 ½ oz dried figs, halved
75g/2 ½ oz apricots, chopped
100g/3 oz fresh baby spinach leaves
225g/7oz Gorgonzola, crumbled
1 tbsp of chopped mint
Directions- Heat half of the oil in a pan and cook the nuts for 5 minutes while stirring occasionally until the nuts are browned. Using a slotted spoon, transfer the nuts to a plate and keep warm.
Heat the remaining oil in the pan and cook the onion for 5 minutes until softened. Add the garlic and rice and cook for 2 minutes. Add the wine, bring to the boil and simmer for 5 minutes until the liquid is absorbed. Add 2 thirds of the stock to the pan, bring to the boil and simmer until absorbed while stirring occasionally.
Add the walnuts, figs, apricots and remaining stock. Bring to the boil and simmer, stirring occasionally until the liquid is absorbed and the rice is creamy and tender. Stir in the spinach leaves as well as 2 thirds of the cheese and mint.
Season to taste and simmer for 2 minutes until the spinach softens. Spoon the risotto onto serving plates, scatter over the remaining cheese and cashew nuts. (Serves 4)
---

It's nice incorporating the fresh veggies from your garden to make some tasty fruit and vegetable food to add to your fruit and vegetable diet. These fruit and vegetable diet recipes are tasty as well as healthy so they're definitely worth trying.
Return from fruit and vegetable diet recipes to easy vegetable recipes
Return to quick and easy home