Easy Vegetable Recipe List
Here's an easy vegetable recipe list with some really delicious quick and easy vegetable dishes. You can prepare them with the use of some fresh veggies from your garden.
Let's start with stuffed peppers…
Stuffed Peppers
These are perfect for appetizers and can also help raise your metabolism.
Ingredients
2 tbsp of olive oil
1 red onion, chopped
1 clove of garlic, chopped
100 g/3 ½ oz split red lentils
300 ml/10 fl oz vegetable stock
100g/ 3 ½ oz organic cheddar, diced
freshly ground salt and black pepper
50g/2 oz roasted and salted pistachio nuts, shelled and chopped
2 tomatoes, chopped
a bunch of fresh chives, snipped
4 red peppers, halved and deseeded
Directions- Preheat the oven to 425 degrees F. Heat half of the oil in a large frying pan and cook the onion for 5 minutes. Add the garlic and lentils and cook for 1 minute. Add the stock and bring to the boil. Cover and simmer for 25 minutes while stirring occasionally until the lentils are tender and the liquid is absorbed.
Remove the pan from the heat and stir in cheese, seasoning, nuts, tomatoes and chives until well-blended. Spoon in the pepper halves and place the peppers on a baking sheet. Drizzle over the remaining oil. Bake for about 30 minutes, until peppers are tender. Served with mixed salad. (Serves 2-4)
Vegetarian Flan
This recipe is one of the best vegetarian flan recipes and I had to include it in my easy vegetable recipe list. This vegetable dish is filled with vitamins and nutrients and is a perfect winter meal.
Ingredients
2 tbsp of olive oil
2 courgettes, thickly sliced
1 red pepper, cored and sliced
1 red onion, peeled
100g/3 ½ oz wholemeal flour
a pinch of salt
75g/2 ½ oz margarine
75g/2 ½ oz sundried tomatoes
1 tbsp Dijon mustard
75g/2 ½ oz Gruyere cheese, grated
2 eggs beaten (organic if possible)
100 ml/3 fl oz soya milk
2 tbsp of fresh chives
Directions- Preheat the oven to 400 degrees F. Pour the oil into a roasting tin and place in the oven until smoking. Add the courgettes, peppers and onion. Roast for 30 minutes. Sift the flour and salt into a bowl. Rub in the margarine until breadcrumb consistency.
Stir in 3-4 tablespoons of water until the dough is smooth. Chill for 20 minutes. Remove the vegetables from the oven and add the tomatoes. Stir and let cool. Lower the oven temperature to 375 degrees F. Roll out the pastry and line a 20 cm/8 inch fluted flan tin with greaseproof paper and baking beans.
Bake for about 10 minutes. Remove the beans and paper and bake for 5 minutes. Spread the mustard over the pastry case and sprinkle on the cheese. Arrange the cooked vegetables on top. Beat together remaining ingredients and pour over vegetables. Bake for 30-40 minutes. (Serves 4)
Here's a nice Classic Tomato Sauce Recipe
This is a really easy vegetable recipe and a nice homemade sauce as well.
Ingredients
12 tomatoes or 4 by 400 g/14 oz cans peeled tomatoes, lightly crushed
1 tbsp of oil
1 clove of garlic
2 small onions, chopped
225ml/8fl oz of red wine
2 tbsp chopped oregano, basil or marjoram leaves
cracked black pepper and sea salt
Directions- If you're using fresh tomatoes, place them in a saucepan of boiling water and boil for 1 minute. Drain, peel and chop while reserving any liquid. Heat the oil in a deep frying pan over a medium to high heat. Add the garlic and onion and cook for 4 minutes or until soft.
Add the tomatoes, wine, herbs, pepper and salt and bring to the boil. Simmer for 35 minutes if using fresh tomatoes (20 minutes if canned). Leave to cool and then refrigerate for up to 3 days. For longer-term storage, freeze in portion sizes ready to defrost and use. It can be kept frozen for 4-5 months.
Rosemary Potatoes, An Easy Vegetable Recipe
All herbs contain healing properties including rosemary. Potatoes are a good source of vitamin B and C along with some other nutrients that promote healthy skin.
Ingredients
3 kg/6 ½ lb potatoes
2 tbsp of olive oil
salt and freshly ground black pepper
1 tbsp of fresh rosemary leaves
Directions- Preheat the oven to 350 degrees F. Make 1cm/ ½ inch cuts in each potato, slicing about 3 quarters of the way through. Combine the potatoes with the oil in a large baking dish and sprinkle with salt and pepper.
Bake for about 1 hour. Increase the oven temperature to 400 degrees F for about 15 minutes or until the potatoes are browned and tender. Sprinkle with rosemary. (Serves 10)
Vegetable Casserole with Cheese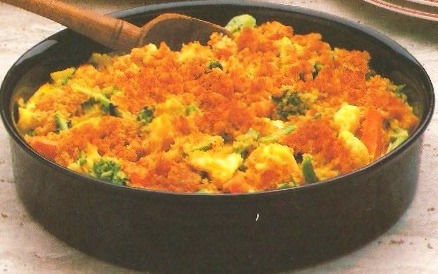 This casserole is very delicious and quite easy to make. You can prepare it within 30 minutes.
Ingredients
1/2 lb of American cheese
1/2 cup butter or margarine
1 bag (16oz) of frozen vegetable blend with broccoli, cauliflower and carrots, thawed and drained
1 cup (about 30) crushed butter crackers
Directions- Cut cheese into cubes and place in a saucepan with ¼ cup butter. Heat over medium until melted and smooth while stirring often. Place vegetables in a 1 quart casserole dish. Pour cheese mixture over and mix well. Melt remaining butter and stir in cracker crumbs.
Sprinkle over top of casserole and bake uncovered at 350 degrees F for 20 to 25 minutes. (Serve at once)
---

That's my easy vegetable recipe list. These veg dishes in my easy vegetable recipe list are delicious, especially with the use of fresh vegetables.
Return from easy vegetable recipes to vegetable recipes list
Return to quick and easy home