Culinary Herb Plants for Fresh Herb Recipes
Growing culinary herb plants had its reward. I was awarded the opportunity of cooking herbs and other herb recipes for my family.
I was able to make herbal teas, add extra flavor to my salads and work miracles with my meats. It's the best part of owning an herb garden.
I also broaden my scope when it came to cooking herbs. I was searching all over the internet, books and asking friends for recipes that would involve the herbs I grew.
And I am glad to state that all these sources paid off.
Here are a Few Herb Recipes I Made by Using the Culinary Herb Plants from My Garden
These herb recipes are good sources of vitamins and antioxidants. So they are great if you're health conscious and/or beauty conscious.
Let's begin with…
Parsley Dip
This is a refreshing summer dip and is ideal for vegetarians. Here are the ingredients:
2 Red Peppers
450 grams of cottage cheese
25 grams of chopped parsley
1 clove of garlic
50ml sesame oil
50ml Lemon juice
2tsp of soy sauce
yoghurt, as desired
Here are the instructions…
Preheat the oven to 150 degrees Celsius and cook the pepper until the skins are black.
Next remove the peppers from the oven and cover them with a towel and allow them to cool. These will be used a little later on.
While the peppers are cooling you can blend the cottage cheese, parsley, garlic and oil. Then season this mixture with the lemon juice and the soy sauce.
The next step is to remove the skins, tops and seeds from the cooled pepper and rinse them with cool water. Mince them and add them to the dip.
Finally stir in the yoghurt for a creamy texture and your dip is prepared and ready to be served.
___________________________________________
Rosemary Potatoes

Rosemary is believed to treat colds, flu and rheumatic pains. So it is a great herb to cook in the winter months.
So here's the recipe for rosemary potatoes:
3kg potatoes
2tbsp olive oil
Salt and freshly ground peppers
1tbsp fresh rosemary leaves
Here's the how to prepare the dish:
Firstly the oven should be heated to 180 degrees Celsius.
Secondly, make cuts in the potatoes that are about ½ inch in depth. Then place the potatoes in a baking dish and add the olive oil, salt and black pepper. These ingredients should be mixed together so that they spread evenly in the dish.
Place the dish in the oven and allow the potatoes to bake for an hour at 180 degrees Celsius.
After the hour is up, increase the temperature to 200 degrees Celsius and allow the potatoes to bake for another 15 minutes or until they are brown and tender.
Next, remove the potatoes from the oven and sprinkle the fresh rosemary leaves on them. At this point the potatoes are ready to be served.
___________________________________________
Basil Bruschetta (with olive and tomatoes)
Basil Bruschetta is healthy and also good for women suffering with menstrual cramps. The ingredients include:
1 large ciabatta
160 grams black olive (coarsely chopped)
150 grams of green olives (coarsely chopped)
60ml of olive oil
150 grams of chopped sundried tomatoes
1tbsp of drained baby capers
2 anchovy fillets (drained and chopped)
12 grams of basil leaves (finely shredded)
1 clove of crushed garlic
2tbsp of red wine vinegar
60ml of virgin olive oil (to garnish)
Baby basil leaves (to garnish as well)
Here's how it is prepared:
Cut the bread into slices that are ½ inch thick. Then brush the bread slices with the olive oil.
Next combine the olives with the remaining ingredients (except those to be used to garnish) in a bowl. Then when the bread is ready, place the mixture on top of the bread on a serving plate and garnish with the olive oil and baby basil leaves.
This serves 10.
___________________________________________
Coriander in Thai sweet and sour soup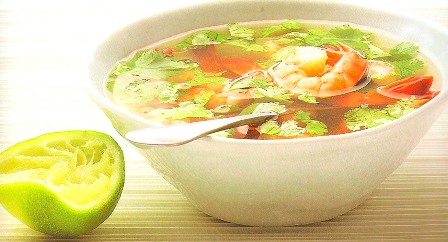 This soup is also known as an anti-ageing soup. They help you achieve and maintain healthy and smooth skin.
Here are the ingredients:
1 litre fish stock
1 stalk of lemon grass
2 limes
2tsbp honey (preferably organic)
1 handful of chopped coriander leaves
500 grams shelled prawns
In a large saucepan, gently heat the fish stock.
While that is being done you can crush the lemon grass thoroughly and mix it with the lime juice and honey.
Separate half of the fish tock in the saucepan and heat it with the lime, honey and lemon grass mixture for about 5 minutes.
Then remove the lemon grass and pour the stock with the honey and lime juice back into the saucepan containing the remainder of the stock.
Next, add the chopped coriander and allow this mixture to simmer for about 2 minutes while stirring continuously.
Add the prawns next and gently poach for 5 minutes. By this time it is ready to be served. (You can add more crushed coriander leaves when serving if you like).
---
Final Word
There is a host of other recipes that can be prepared using culinary herb plants from your garden. And I'm sure you have a couple that you prepare all the time.
Nonetheless, culinary herb plants are great for the skin and health and they are also delicious in our meals. So don't hesitate to grow culinary herb plants and use them in your cooking.
Your family will thank you for it.
Move from Culinary Herb Plants to Planting Herbs
Return to Home